Podcast: Play in new window | Download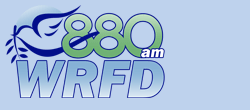 On Tuesday January 18,2011 Barry Sheets, the director of the Institute For Principled Policy, was the guest host on Linda Harvey's Mission America program on WRFD radio. His guest was Chuck Michaelis, the Vice-chairman of the Institute and Executive Director of Camp American. The subject was efforts by a number of nominally "conservative" groups to call a new "single issue"  or "shackled" constitutional convention.
The Institute For Principled Policy has done extensive research on the issue of "single issue" or "shackled" federal conventions and has drawn the conclusion, based on the evidence presented by proponents of such a convention, that the result of such a call would be a disastrous discarding of the current constitution and the creation of a new constitution.
You can hear the half-hour interview here.
Chuck Michaelis and Tom DeWeese have done several classes on the history and consequences of constitutional conventions at Camp America in 2009 and 2010. Videos of these talks are available at a nominal cost from Camp American- click here.